Investors & Media
Corporate Profile
Investor Relations
Corporate Profile
Sage Therapeutics is a biopharmaceutical company committed to developing novel therapies with the potential to transform the lives of people with debilitating disorders of the brain. We are pursuing new pathways with the goal of improving brain health, and our depression, neurology and neuropsychiatry franchise programs aim to change how brain disorders are thought about and treated. Our mission is to make medicines that matter so people can get better, sooner.
Day High:
Day Low:
Volume:
6:27 PM EDT on
Mar 31, 2023
Copyright Nasdaq. Minimum 15 minutes delayed.
Data Provided by Refinitiv. Minimum 15 minutes delayed.
Press Releases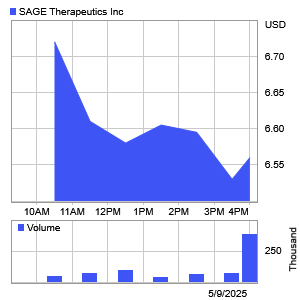 Events & Presentations
Mar 29, 2023 at 11:00 AM EDT

Mar 6, 2023 at 10:30 AM EST

Feb 16, 2023 at 8:00 AM EST